6 Roof Types to Consider for Your Home Upgrade
The roof of our house protects us from the harshest elements, but it does so much more than that.
For instance, the shape of our roof contributes significantly to our home's overall look and style.
In some cases, the roof type you choose dictates whether you can have an attic, loft, or any additional living space.
Your roof can also play a role in making your home more energy-efficient and more resilient to specific weather conditions.
When the time to upgrade your home comes and your roof is a priority, you will need the services of a skilled, experienced, and licensed roofer with the right roofing insurance coverage. With a roofing contractor's help, you can pick a new roof type that will be perfect for your home. There is no shortage of roof types to consider for your home upgrade. Read on for some of them.
1. Gable Roof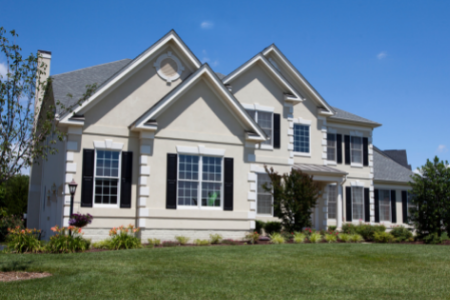 Its triangular shape makes a gable roof easily recognizable. Also referred to as a peaked or pitched roof, a gable roof is quite popular among homeowners in the U.S. because its simple design makes it more affordable and easier to build than some of the roof types on this list.
Shedding water and snow is easy for a gable roof because of its shape. It also allows more ventilation, not to mention additional living space like an attic or vaulted ceiling.
2. Hip Roof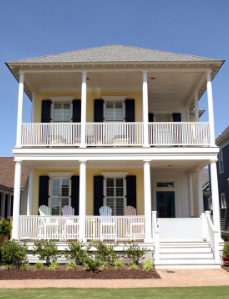 Another popular roof type in the U.S., a hip roof is characterized by its equally long four sides that form a ridge as they come together at the top.
With its inward slope, a hip roof tends to be more durable and sturdier than a gable roof.
If your house is in a high wind or snowy area, going for a hip roof would be an excellent choice since snow and rain easily slide off because of its slant.
You can also add a dormer or a crow's nest when you have a hip roof.
3. Gambrel Roof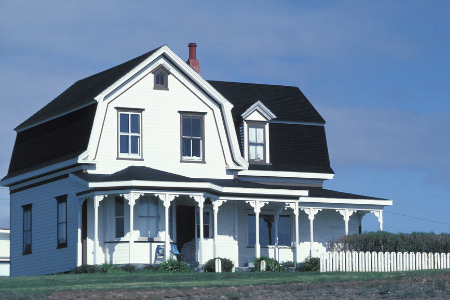 A gambrel roof has two sides, and each side has two slopes. Typically, the lower slope of a gambrel roof has a much steeper, almost vertical angle compared to the shallower angle of the upper slope.
Also known as a barn roof, a gambrel roof is easy to frame out and is designed to make adding living space like a loft or garret easier.
4. Mansard Roof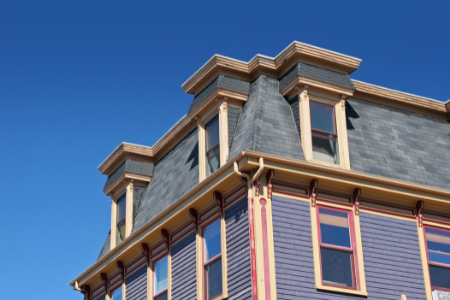 A mansard roof is also called a hipped gambrel roof, and for good reason: it looks like a combination of both roof types.
Like a hip roof, a mansard roof has four sides but has a double slope on each side, much like a gambrel roof, although the latter differs in the sense that it only has two sides.
A mansard roof, also known as a French roof, allows you to create more living spaces like open or closed dormers. It looks more stylish, though, mainly because of the double slopes on each of its four sides.
5. Flat Roof
Understandably, some homeowners have misgivings about a flat roof since it won't be able to shed precipitation as quickly as the other types.
However, flat roofs are not totally flat since they do have a slight pitch to allow water to run off and drain.
While more common in commercial buildings, some homeowners opt for a flat roof because of the possibilities when it comes to using the space up top.
For one, a flat roof looks like a perfect place for a patio. For another, you can use the space for your HVAC system's outside unit. If you want a more environmentally friendly energy source, you can install solar panels there.
6. Skillion Roof
A skillion roof is essentially a flat roof placed at a sharp angle with one end leaning on a taller wall. Because of the slope on this flat roof, it doesn't have a problem shedding rainwater and snow.
With its simple but aesthetically pleasing design, assembling a skillion roof—also known as a shed or lean-to roof—is a straightforward process. The fact that it requires fewer building materials than other roof types also make it cheaper to install.
Skillion roofs look amazing on homes with a modern style, but they're also commonly used for sheds, porches, and home additions.
These are just some of your roof type options, and great options to consider in your search for your new roof. Remember to consider factors like the weather in your area and the overall look of your home. With that in mind, you should be able to come up with a new roof that will look and feel like an upgrade over your old one.
Author Bio: Rachel Porter is the content specialist for Custom Contractors Insurance, LLC, an Arizona roofing and contractor's insurance company. When not writing, she enjoys reading and mountain biking with her friends.